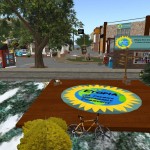 Imagine a mining town built on the ignorance and greed of a company that profited from stripping the earth, leaving it barren and the people who lived there impoverished. As time went on that community of people began to embrace a simpler, healthier, and more sustainable way to live.
Over time and through the generations a new community evolved that incorporated a way of life that was in balance with nature, mindful of the needs of their neighbors. New ideas are born. Everyone contributes to the sustainablility of the community. Everyone benefits. Welcome to Etopia.
Step into a world that embraces a way of living built on cooperation and respect for each other and the world around us. We are a reflection of what we believe is possible in real life.
The challenges posed by Peak Oil and Climate Change are real. The people who inhabit Etopia Island are committed to living sustainably by balancing our needs with the needs of the rest of the environment.
Etopia is Second Life's premier Environmental Eco-Community where we showcase real world examples of sustainable living, renewable energy generation, urban agriculture, cooperative business, and a deepening sense of community among our residents.
We continue to use the best knowledge in sustainable design, energy efficient building, public transportation and new urban planning concepts in the ongoing development of our communities.Sustainable living is more than recycling and Second Life is more than a gaming platform. At Etopia Island we believe in a healthy planet, close communities, and strong businesses.
Our simulation in Second Life is designed to embrace, encourage, and enlighten. From green rooftops to green offices we've created a unique and inspired simulation that will engage and inform.
Our sims include community spaces, shops, businesses, cafes, bike trails, interactive displays, and more. We offer mixed-use development, private parcels, and rentals for businesses, individuals, and non profits. Ride the gondola to Eagle Peak. Walk home from your shop at Etopia Plaza and stop at the Farmer's Market on your way. Join friends for coffee at Tsidel's Cafe or enjoy a game or two at Ginny's Arcade. Enjoy live music at the Rhodehouse or sail our fully navigable waterways.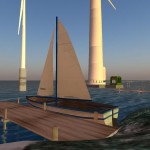 You'll find it all at Etopia Eco-Communities.
Join us and contribute to a collective vision for a sustainable planet and future.Visit us today for an experience you'll not only enjoy, but grow with.