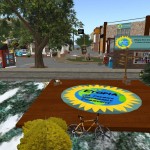 Sustainable living is more than recycling and Second Life is more than a gaming platform. At Etopia Island we believe in a healthy planet, close communities, and strong businesses.
Our simulation in Second Life is designed to embrace, encourage, and enlighten. From green rooftops to green offices we've created a unique and inspired simulation that will engage and inform.
Ride the gondola to Eagle Peak. Walk home from your shop at Etopia Plaza and stop at the Farmer's Market on your way. Join friends for coffee at Tsidel's Cafe or enjoy a game or two at Ginny's Arcade.
Bike our trails and sail our waterways. Join the Writers Workshop at the Drumming Circle, enjoy live music at The Rhodehouse, visit a gallery, or argue the political points of fracking and GMO agriculture at Freedom of Espresso.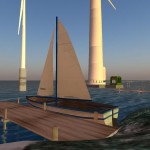 You'll find it all at Etopia Eco-Communities … music, activism, recreation, and wild lands in addition to homes, galleries, shops, offices, and educational venues throughout our community.
Join us and contribute to a collective vision for a sustainable planet and future.Visit us today for an experience you'll not only enjoy, but grow with.