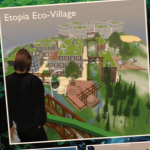 Etopia was founded to create a virtual world in which we could explore how to adapt to the challenges posed by Peak Oil and Climate Change. Since the beginning, Etopia has been about sustainability and embracing the ideas of a community of creative, passionate, and thoughtful participants.
Established on Earth Day 2007 Etopia quickly became Second Life's premier sustainable community as a showcase of ideas for an equitable, responsible, and sustainable future. As our ideas developed our regions evolved.
In 2020 Etopia became the property of the Brain Energy Support Team. Together Etopia & BEST blended the needs of a marginalized population of individuals with cognitive challenges with the vibrancy of an engaged community.
BEST is known for providing education, peer support, and training to help individuals with brain injury re-integrate into their real-world communities. Etopia has been home to the virtual versions of many of the successful real world BEST programs since 2011. Utilizing a virtual world to practice daily living skills has proven to be one of the most successful training platforms for BEST.
Etopia has always been a virtual collaboration space for individuals, businesses, nonprofits, and others from around the world. It is filled with organic, cooperative, and sustainable living systems. Our islands are designed to reflect how we can have what we need (and want) to live well without compromising the greater good or negatively impacting our environment.
Second Life offers a robust platform for collaboration and education. Since the beginning our residents have created and maintained virtual demonstration projects of real-world environmental initiatives, examples of green infrastructure, sustainable community and business practices, share information, and interact in an enjoyable and informative way.
Our simulation in Second Life is designed to embrace, encourage, and enlighten. From green rooftops to green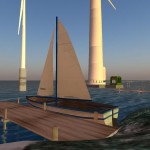 offices we've created a unique and inspired simulation that will engage and inform. Ride the gondola to Eagle Peak. Walk home from your shop at Etopia Plaza and stop at the Farmer's Market on your way. Join friends for coffee at Tsidel's Cafe or enjoy a game or two at Ginny's Arcade. Take a mindfulness walk or sail our fully navigable waterways. Chat with our storytellers to learn more about Etopia, permaculture, water reclamation, or just to hear a funny story or two. There's always plenty to see, do, and experience across our 6 themed regions.
Visit Etopia and find out more about environmental, community, and organizational sustainability.
Visit us today for an experience you'll not only enjoy but grow with.