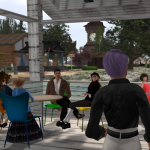 Imagine a mining town built on the ignorance and greed of a company that profited from stripping the earth, leaving it barren and the people who lived there impoverished. As time went on that community of people began to embrace a simpler, healthier, and more sustainable way to live.
Over time and through the generations a new community evolved that incorporated a way of life that was in balance with nature, mindful of the needs of their neighbors. New ideas are born. Everyone contributes to the sustainability of the community. Everyone benefits. Welcome to Etopia.
Step into a world that embraces a way of living built on cooperation and respect for each other and the world around us. We are a reflection of what we believe is possible in real life.
Ride the gondola to Eagle Peak. Walk home from your shop at Etopia Plaza and stop at the Farmer's Market on your way. Join friends for coffee at Tsidel's Cafe or enjoy a game or two at Ginny's Arcade. Take a mindfulness walk or sail our fully navigable waterways.
Visit Etopia and learn how you can take some of our ideas and apply them to the real world.