I don't often write about other regions, but this place is AMAZING!
Gosau am Dachstein in SL has all the elements of a perfect winter experience.
There's a fun little market when you first land. Santa stands there with his list and checking it twice. The market booths have traditional and fun gift ideas along with some standard SL fare. I especially enjoyed the treats and holiday spirit of the market. The fun thing is that there is someone nearby to welcome you, share information about the real Gosau am Dachstein in Austria, and to answer questions.
As I strolled through the village I found myself stopping by the petrol station's store. It wasn't an empty filler building. Instead, it was a well thought-out community shop (again with treats I enjoyed). I took in every detail from the postcard stand at the register to the meats hanging by the butcher counter. And I admit this has motivated me to create a similar experience for the Etopia Food Co-op.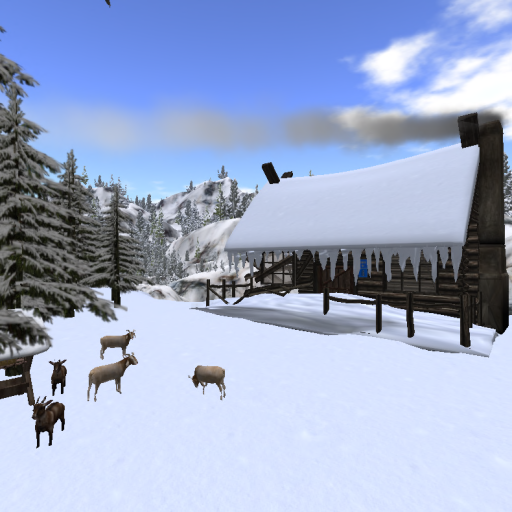 From the shop, I continued along the road, grabbed a pair of skis, and made my way up the hill to explore the alpine setting behind the village. There's a first aid station, skiing trails, and a real "in the mountains" feeling. You can imagine yourself standing on the crest of a slope, ready for the exciting ride down the mountainside as you breathe in the crisp winter air of the Austrian Alps.
The homes I saw were traditional alpine style homes. Some even had snowy vehicles parked outside. These touches – vehicles, recycle and trash bins, a snow shovel by the door – are the little things that make the visit feel special. As always, when visiting communities in SL, it's best to stay out of homes.
I've been to many winter wonderlands in Second Life. Visiting Gosau am Dachstein ranks as one of my absolute favorite places to enjoy the season. I look forward to see what they do for the summer. Gosaukamm cable car? Zwieselalm mountain pasture?