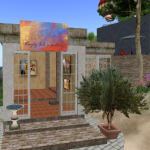 Kayly Iali is back!!
If you haven't visited Kayly's Gallery at the Etopia Coastal Village you're missing out on a real gem.  Kayly is a real world oil painter and brings her work to SL for us to enjoy.
Her story is inspiring and, for many of us, very familiar. She graduated college in 1979, had a family, and after her kids were practically grown she returned to school for a second degree. This time it was in studio art. After graduating in 2009 she began exhibiting abstracts in venues near her home. Her interest was in classical realism. She has been exhibiting her work in Second Life SL since 2010.
Visit Kayly Iali's Gallery to see her new work. SLurl, http://maps.secondlife.com/secondlife/Etopia%20Prime/232/19/27
Kayly has several websites where you can find her work:
From landscapes to portraits Kayly is a talented and gifted artist in any world.