Welcome to our another installment of Everything Etopia, a weekly podcast of news and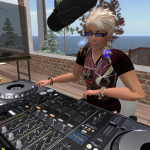 updates. This episode we've added a little news from both our first and second lives.
Are you a resident of Etopia? Do you have a business, product, or project you'd like us to promote? Drop me a notecard next time you're in world with the details or email me at namaara at etopia island dot org.
In the meantime, enjoy this week's episode of Everything Etopia.
Podcast Transcript:
Happy Sunday! Welcome to another week and another update of Everything Etopia.
In case you missed this newsworthy tidbit – Pink lakes. That's right, around the world we're seeing pink lakes and it's not a scene from Ghostbusters or your favorite episode of X-Files. You can find these pink, or red, lakes in Spain, Senegal, Bolivia, Mexico, and a host of other countries.
What causes this interesting phenomenon? High levels of the right kind of salt and organisms that produce carotenoid pigments.
As noted in the news, a pink lake is different from pink water coming out of the tap. Yes, the pink stuff some Canadians saw in their sinks last week was the result of a disinfectant that leaked into the water system.
I can assure you we haven't any pink lakes or disinfectant leaks at Etopia. But if you're anywhere near Melbourne be sure to take a walk across the bridge at Westgate Park's pink lake.
In other news the Community Virtual Library in Second Life is presenting an exhibit on the topic of Digital Citizenship. Their grand opening was such a huge success they're expanding the exhibit. Etopia is participating in this vital discussion. See how organizations and regions across SL address digital citizenship. The exhibit runs March through August 2017.
And this week at Etopia, the New Resident Forum is tomorrow evening, Monday March 13th, at 5pm SLT. We'll meet at the old Train Station by the Main Landing Area. I'll be there to answer questions about Etopia, listen to suggestions you might have, and generally enjoy an evening getting to know you.
Thursday is the Weakly Bored Meating. It's an Etopia staple where the conversation moves fast and the decisions faster. We invite you to stop by Tsidel's Cafe at 7pm SLT and enjoy a fun-filled hour with friends. As an added incentive the hot dogs are free.
Friday's Happy Hour is at noon SLT for the convenience of our European residents. We'll be at the piano bar on Etopia Prime, which is just upstairs from Tsidel's Cafe.
And on Sunday we'll have our Eco-Conversation at 11am SLT. The topic is plastic. Join us at the Train Station located near the Main Landing Area to explore whether the convenience is worth the toll.
Be sure to visit Etopia Island dot org for a full calendar of events and more info about Etopia's 10th Anniversary and Earth Day Celebration coming up in April.
In the meantime, let's support the businesses at Etopia and shop the stores on Etopia Plaza and in the Coastal Village. New stores include Happy's Wardrobe and Prim's. Both are on the Plaza.
Until next week, this is Namaara MacMoragh for Everything Etopia, and remember, think globally, act locally, and know that everything you do makes a difference!
Podcast: Play in new window | Download